A Children's Crisis, More Flooding and a Nuclear Dilemma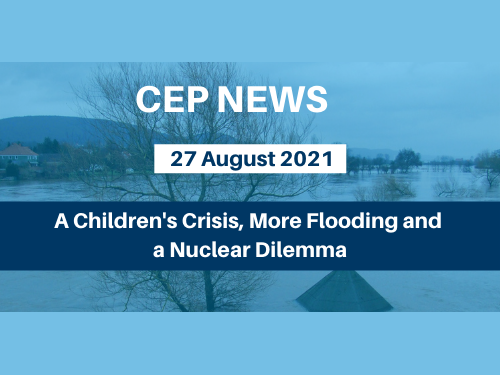 News from CEO – Mike Hopkins
A sobering report from UNICEF this week revealed around 1 billion children – nearly half the world's population – are living in one of 33 countries categorised as "extremely high risk" because of climate change. Nearly 920 million children are highly exposed to water scarcity, almost 820 million are at risk because of heatwaves and almost every child on the planet is exposed to at least one type of climate shock event, e.g. flooding, heatwaves, cyclones, drought or air pollution. Sobering, but important to know. You can find the full report here.
On the topic of flooding, a new report (from World Weather Attribution) strongly links the recent, devastating floods in Europe to climate change. The report concludes the level of flooding experienced would, historically, be a one in 400 year event. Its analysis suggests 1-day maximum rainfall intensity is up between 3% and 19% compared with a world that was 1.2C cooler than now. It predicts a world 2C warmer would see another 0.8% to 6% increase in intensity and would increase likelihood by a factor of 1.2 to 1.4. More details here.
It will come as no surprise but can now be confirmed that 2020 – despite substantial economic slow down because of COVID – saw the highest concentration of CO2 in the atmosphere on record. The American Meteorological Society's State of the Climate in 2020 reveals the global annual average concentration was 412.5 parts per million, that's 2.5ppm up from 2019. That concentration is the highest since direct records began 62 years ago and the highest in the last 800,000 years according to ice records. The report also confirms 2020 was Europe's hottest year on record and all of the top seven years have occurred since 2014 (inclusive).
A few weeks ago we invited readers to send us expressions of interest to join our coterie of expert trainers. We hear most of you are extremely busy at the moment and the last couple of weeks have been particularly disruptive, so I'd just like to remind you all that we are keen to boost our reserves of expertise. Please get in touch if you're interested.
Those caught out by the recent power outages around the North Island may be interested in a Melbourne trial of pole mounted batteries. Intended to facilitate better management of constraints, outages and the integration of local solar, each of the 40, 30kW batteries can hold two hours of storage for local users.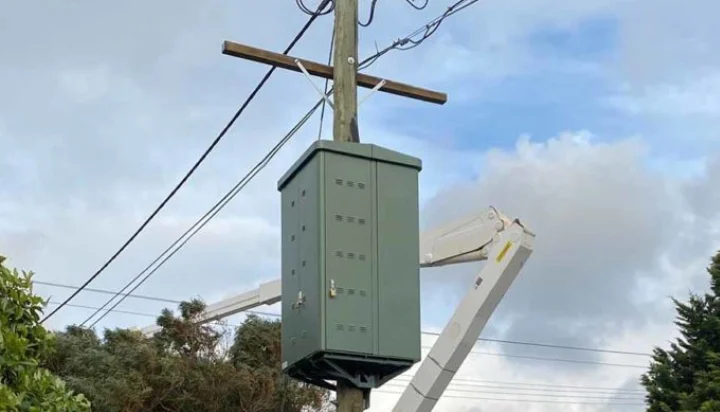 We can report a couple of industrial firsts this week. In the week Volvo received its first batch of fossil-free steel, Pilkington also announced a trial to produce glass using hydrogen. Let's hope these trials can be delivered cost effectively and evolve into wider applications.
We also saw (another) biggest wind turbine in the world claim this week, this time from MingYang Smart Technology of China. With three, 118 metre blades sweeping 46,000 square metres (six football pitches), each turbine has the capacity to generate up to 16MW and 80GWh per year.
We heard about a new slant on drinking and driving this week with the news the World Endurance Championship (think Le Mans and similar) is switching to 100% renewable fuels next year produced from residue from wine production.
Here's a dilemma. How will a nuclear free New Zealand deal with a new generation of smart watches powered by nuclear waste? The units, developed by US company NDB never require charging and are expected to be on the market in around 18 months. Will we see them here?
Finally this week, please join me in issuing a warm welcome to new Members:
Lesley Metibogun, PhD student at Victoria University of Wellington and Lecturer at WelTec; and
Daniel Panjaita, student at Ara Institute of Canterbury;
And to new Bronze Partner:
E2 Solutions New Zealand (Shannon van Waveren – Managing Director)
Wishing you a safe and great weekend.
Mike and the team
---
Upcoming Events
Check out CEP Training courses, CEP Webinars and other Industry related events – coming up.
---
Tender Opportunities
Carbon Accounting Related Services
Ref 24609156
Wellington City Council's Te Atakura—First to Zero plan, adopted in 2019, aims to achieve net zero carbon for corporate emissions by 2050. This goal is reliant on the ability to measure our current greenhouse gas emissions, identify hotspots and opportunities for reductions, and to report on both items in an accurate and timely manner. Wellington City Council has been engaging a single supplier for all carbon inventory related services, from software through to certification, since 2014.We have released an RFP (Reference 2021-031) on GETS to source a software solution that aligns with our current and anticipated future needs and we are also conducting the following market research activity to help us discover who in the market has the capability and expertise to deliver relevant, carbon inventory-specific services to help support us delivering on our net zero carbon commitment.
We are seeking information from suppliers in the market who currently provide:
a) Carbon Emissions Advisory Support Services
b) Carbon Emissions Factor Library
c) Carbon Emissions Auditing Services
d) Carbon Emissions Certification Services
The details that we're seeking are contained in the attached letter and information gained during this research activity will help us to inform our requirements and future sourcing activities* and may be shared with other local government bodies seeking to improve their carbon accounting activities.
*Note that the indicative RFx Release Date has been added in order to release this FPO. At this stage, Wellington City Council has not determined a sourcing strategy for these services.
---
LED Lighting Upgrade for Parliament House, Parliamentary Library and Executive Wing
Ref 24625837
The buildings that make up the Parliamentary precinct are mostly lit by older technology light fittings. They tend to produce a far greater amount of heat in addition to the light. These fittings are far less energy efficient. Parliament is introducing new measures that will further reduce its carbon footprint and improve energy efficiency on the Parliamentary Precinct in Wellington.This RFP relates to the engagement of a successful supplier to upgrade LED lighting for Parliament House, Parliamentary Library and Executive Wing to reduce our carbon footprint.Please note: Parliamentary Services requires the tenderer to complete a Non-Disclosure and Undertaking Agreement (Appendix Six) period to release the Project Specification Parliamentary Precinct Upgrade to LED and Drawing Set.
Close Date : Thursday, 2 September 2021 4:30 PM
---
WUNI Stage1b Non-transmission solutions RFI

Ref 24646766
This request is issued by Transpower New Zealand Limited (Transpower). Transpower's aim is to obtain information to determine if there is a viable non-transmission solution (NTS) capable of meeting our requirements for the provision of voltage support in the Waikato and Upper North Island (WUNI) regions and being able to operate under a grid support contract (GSC) delivery model.
Close Date : Friday, 3 September 2021 2:00 PM
---
Lead Engineering Design Consultancy – Boiler House Conversion

Ref 24596851
We require an engineering design consultant with proven capability, depth of experience and a proven track record of performance in engineering design and design team leadership to lead, deliver and co-ordinate the design development for the Project to the detailed design stage and provide construction monitoring services.Background: One of the key strategic objectives contained in the University of Canterbury's (UC) Strategic Vision 2020-2030 is to ensure that UC will be carbon net neutral by 2030. As part of the programme supporting UC's Low Carbon Energy Strategy, UC is carrying out two projects:
Conversion of the existing Ilam campus boilers 2, 3 and 4 from coal to wood chip and wood pellet fuel and associated works (Project) – this RFP provides for the work-stream for this Project; and

Conversion of a group of buildings to heating from Ground Source Heat Pump (GSHP) technology to reduce the overall load on the central campus boilers (GSHP Project) – a concurrent project that is subject to a separate RFP.
The Project and the GSHP Project are two distinct work streams that are based upon the strategies developed by UC through the master planning, feasibility study and concept design stages.
Close Date : Sunday, 5 September 2021 5:00 PM
---
Alfriston College – Electrical and Lighting Upgrade Works

Blocks : Whanau, Gym, 4, 5,101077, 101078,101076 and 101073. All of the Blocks require the following electrical works due to existing fittings reaching the end of their life cycle:
The general scope includes….Replacement of Existing Distribution boards, installation of RCD protection. Upgrade to Energy Efficient LED Lighting, Installation of Cable Protection. Installation of Exterior Security Lights to Carpark and Courtyard Areas.

Close Date : Friday, 10 September 2021 5.00 PM
---
R22 Cooling Unit Replacement – Supply and Installation
Ref 24702217
We are seeking the services of a competent Contractor with demonstrable track record of strong health and safety performance and successful delivery of similar projects to replace the R22 cooling units at the University of Canterbury (UC) Macmillan Brown, Logie and West Buildings. Some of the units provide specific functionality and the contractor may be required to design new units (should there not be a readily acceptable solution available) that provide similar performance to the existing units.
Close Date : Friday, 10 September 2021 5:00 PM
---
RFP C21- 008 TOU Electricity Supply and Purchase – University of Auckland

Ref 24713446
The UoA is seeking proposals for supply durations of 12, 24 & 36 month terms, and (preferably) from 100% renewable generation sources. Additional (extended terms) are not specifically requested, however will be considered if proven beneficial, as will the provision of Renewable Energy Certificates (if not 100% carboNZero Certified) to meet the UoA's sustainability goals. The UoA will also consider a long-term Power Purchase Agreement (PPA) tied to a renewable energy source (e.g. PV farm) that is certified as carbon zero with any surplus/deficit electricity managed through the retailer complete with associated carbon certification. A PPA could be for 10, 15 or 20 years.
Close Date: Monday, 13 September 2021
---
Transmission Grid Service Contracts and Membership of Contestable Work Panels
Ref 24706031
Transpower is a state-owned enterprise at the centre of New Zealand's electricity industry. It is responsible for ensuring the secure and reliable transmission of electrical energy from generating sites, such as hydro-dams and wind farms, to distribution companies and large direct supply companies. Our grid includes over 12,000 km of transmission lines and more than 170 substations.
Transpower has a largely outsourced model for the provision of the field services required to maintain and build grid assets. A number of our existing contracts for field services expire in August 2022. We are seeking Registration of Interest (ROI) from suppliers for the new contracts for the ongoing provision of grid field services.
Please see attached the ROI document for more information about this opportunity and timeline for procurement.
Transpower is hosting a ROI briefing meeting at 11:00am (NZST) on Tuesday 31st August 2021 for suppliers that may be interested in responding to the ROI. Details on the ROI briefing meeting are provided in the ROI document. Suppliers are required to register their interest in attending this meeting via email by 2:00pm (NZST) on Monday 30th August 2021.
Suppliers are required to confirm their intention to submit a registration via email by 2:00pm (NZST) on Wednesday 1st September 2021, using the Response Form in the ROI document.
Close Date : Monday, 13 September 2021 2:00 PM