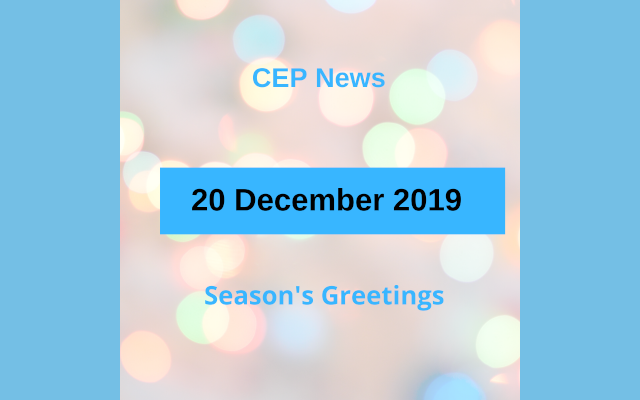 Yes, the next time you'll see a CEP News, it will be 2020, a decade that will define the future of the current and future centuries – no pressure there, then!
Reflecting on 2019, it has been quite a momentous year. We've seen worldwide climate emergency declarations, climate strikes and the emergence of a new generation of political influencers. The year finished up with what many would see as a disappointing outcome from the COP25 round, which fell short on tying down regulations around international carbon markets. New Zealand was one of the signatories of the San Jose Principles but major emitters like the US, China and India were notable absentees. We also became one of only a tiny number of countries to declare legally binding, net zero targets and passed the Zero Carbon Act, so good on us. It's exciting to think what 2020 might bring.
Across the ditch, progress towards lowering emissions is slower. The political will is lacking and while the tragic bushfires that have been seen in Australia may be raising awareness about climate change, in themselves they are contributing to a significant increase in Australia's emissions. Since August, bushfires have created emissions equivalent to nearly half the country's total 2018 emissions, emitting around 250 million tonnes of CO2 equivalent. A tragedy all round.
This week, we can announce that the

registration page

for the 2020 conference is now live. So, why not move that from the to-do list to the done list before Christmas and then keep an eye out for New Year Sales on flights and accommodation.
Thanks to all those that have completed the

2019 member survey

. We really appreciate your time and here's a gentle reminder to those that haven't got around to it yet. Remember as well that everyone completing the survey before the 31 December can enter themselves in the draw for a $100 Prezzie Card.
We have to do a quick shout out to the Opportunities section below as there are a couple of tender opportunities that close early to mid January and we don't want anyone to miss them because of the break. So, please take a look.
We have two new discussion board topics to announce this week. We've set up discussion boards for the consultations on ETS Settings and Accelerating Renewable Energy and Energy Efficiency. These are available in the members area of the website and both will close on 14 Feb, to give us a little time to prepare final submission documents on behalf of CEP. Of course, please feel free to submit individually as well.
While wishing to extend goodwill and cheer over the break, we must also make sure we don't let good behaviours slip too much as well. Some interesting statistics (mostly from the UK) demonstrate just how easy this can be and its aggregated impact. It seems around the world, our waste output is one third higher over Christmas than at any other time. Meanwhile in the UK, each year £42m (NZ$84m) worth of unwanted gifts are sent to landfill while 500 tonnes of Christmas lights meet the same end. 30% of the country's annual food waste is generated over the festive period and on Christmas Day alone, the country discards 130 million Brussels sprouts (no surprises there), 93 million roast spuds and 91 million slices of turkey. I'd like to think we're not that bad in NZ but it's a reminder that we should be conscious of our behaviours, even when enjoying a little over indulgence.
The CEP office will close on the 24th and open again on 6th January. CEP News will be taking an extended break and will return towards the end of January.
We wish all a safe and relaxing break and a prosperous 2020s.
---
Tender Opportunities
Supply and installation of LED lighting fittings for LED replacement pilot in the Rotorua Region Ref 22075203
This ROI preferred procurement route for the Rotorua pilot scheme is to identify suitable lighting suppliers who can supply and install a quality LED solution to 35 school in the Rotorua region in a circa 4 month period which includes sourcing of the light fittings.
Close Time & Date: 5pm Friday, 10 Jan 2020
Australian Alliance for Energy Productivity – Renewable Energy for Process Heat Opportunity Study: Phase 2 EOI
Process Heat 2 EOI pdf
The purpose of the Renewable Energy for Process Heat Opportunity Study is to demonstrate the technical and commercial feasibility of innovative, renewably powered alternatives to fossil fuelled process heating.
Close Time & Date: 4pm Monday, 13 Jan 2020
RFP for Energy Transition Accelerator Programme
Ref 22087020
EECA has developed a strategic programme called the Energy Transition Accelerator (ETA) Programme. The ETA Programme assists large energy users (both private and public sector) to develop an energy-related carbon abatement opportunity assessment as a step in developing a strategic low-carbon pathway. The Programme helps the largest energy-related GHG emitters to make technically and economically viable decisions and investments that support their organisations' energy transition pathway to a low carbon future.
Close Time & Date: 5pm Tuesday, 14 Jan 2020
Dolomite Point Redevelopment Environmental Investigations and Approvals
Ref 21986965
The Department of Conservation is seeking to engage a supplier to lead and develop an integrated environmental investigations and approvals (EI&A) package for the project.
Close Time & Date: 12 noon Wednesday, 22 Jan 2020
NZ Emissions Trading Scheme Managed Auction Service
Ref 21965623
The Ministry for the Environment (the Ministry) is seeking proposals for a secure Managed Auction Service that is intended to be fully operational and available to undertake regular auctions of New Zealand Emission Units (NZUs) in early 2021.
Close Time & Date: 5.00 pm Friday, 24 Jan 2020
Panel Contract for Facilities Consultancy Services Details
Ref 22007792
Bay of Plenty DHB (BOPDHB) is seeking to identify and select a number of suitably qualified and experienced consultants to form a Panel of pre-qualified suppliers available for facilities / property project related opportunities over the next five to seven years. BOPDHB operates from multiple facilities across the wider Bay of Plenty region that periodically require consultancy advice relating to building maintenance and or construction services.
Close Time & Date: 3.00 pm Friday, 14 Feb 2020