Record Temperatures, Commitments That Work(ed) and Green Building Design Innovations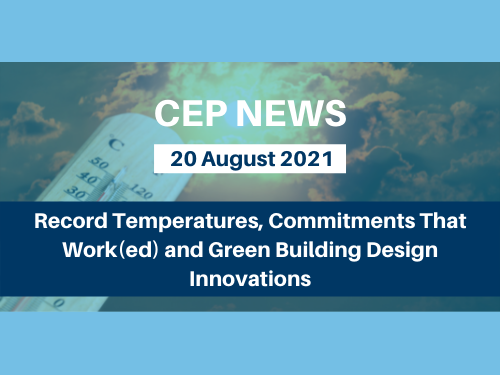 News from CEO – Mike Hopkins
NZ hit the international news this week, and not just because we went to full lockdown on the back of one community case of COVID.
NZ has become the first country worldwide to have all its councils join the Smart Cities Council. The arrangement comes on the back of an agreement between the Association of Local Government Information Management (ALGIM) and the Smart Cities Council Australia New Zealand (SCCANZ). Under the arrangement councils will have access to resources, research partners and solution providers.
Also in the international news was Christchurch Council, which reported its LED streetlight replacement programme has reduced power consumption by 70%, saved $1.5m and reduced emissions by 1,150 tonnes. Well done to Christchurch and it would be good to hear how other cities are faring.
July 2021 has been reported as the hottest month on record (142 years of data) with the combined land/surface water temperature being 0.93C above the twentieth century's average, according to the National Oceanic and Atmospheric Administration. The report went on to reveal Arctic ice covered the fourth smallest area for a July since records began for that 43 years ago.
Evidence has emerged that we can make a difference to our environment if we stick to international commitments. Scientists modelling a world without the Montreal protocol addressing the growth in CFC emissions believe the curbing of CFCs has saved over 2C.
The first commercial, electric airlink in NZ was announced this week with Sounds Air planning to run three Heart Aerospace ES-19s on its Wellington to Blenheim route from 2026. More please Air NZ.
One of the main inhibitors to the large scale deployment of offshore wind is the cost of connecting facilities and maintaining that connection. Japan's PowerX is approaching the problem a different way. Its "Power Transfer Vessel" is, in effect, an autonomous, floating battery. The 100m vessel cruises at 7 knots (maximum speed of 14 knots), has a range up to 300Km and stores 222MWh.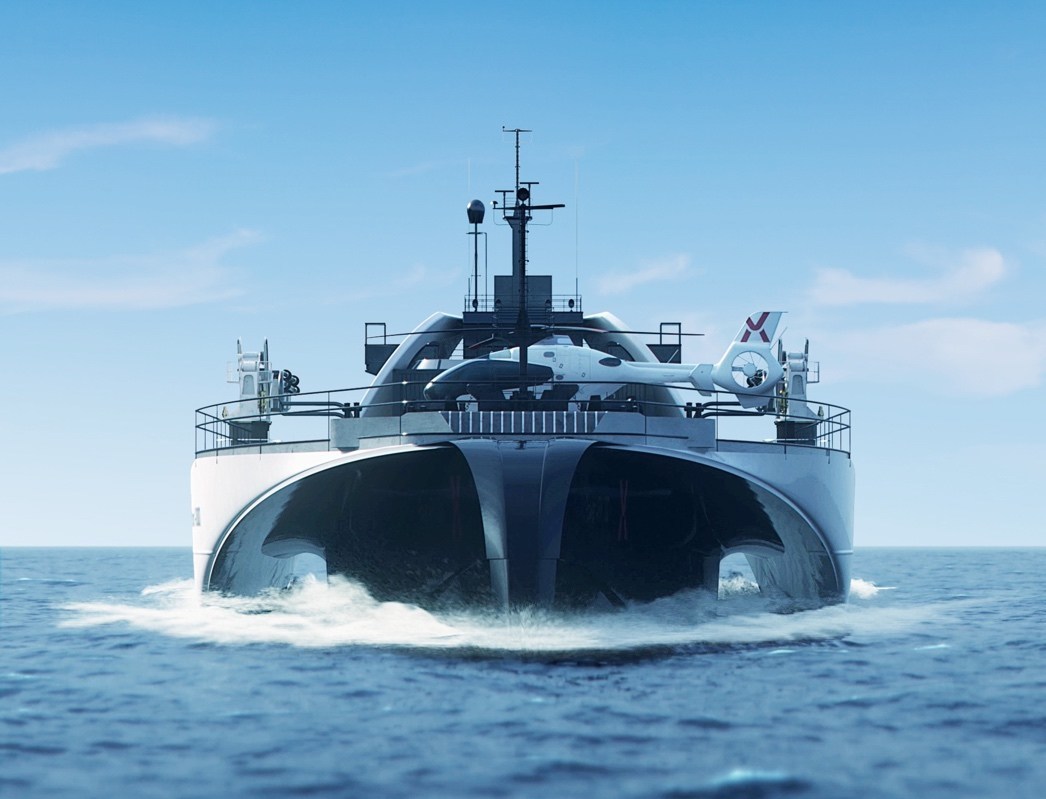 Our search for innovation stories in building materials this week uncovered a handy list of seven things to consider when designing your next building. Prepared by Green Building and Design, the list and link appear in a dedicated box below.
Wishing you a safe and great weekend.
Mike and the team
---
7 Green Building Innovations to Think About
Green Building and Design has published a list of seven innovations to ponder when designing your next sustainable building:
Expanded IAQ monitors

Closed cavity facades

Radiant systems for commercial projects

Fibreglass window and door frames

Fabric structures

Terracotta tiles

Metal wall panels
More details here.
---
Upcoming Events
Check out CEP Training courses, CEP Webinars and other Industry related events – coming up.
---
Tender Opportunities
Carbon Accounting Related Services
Ref 24609156
Wellington City Council's Te Atakura—First to Zero plan, adopted in 2019, aims to achieve net zero carbon for corporate emissions by 2050. This goal is reliant on the ability to measure our current greenhouse gas emissions, identify hotspots and opportunities for reductions, and to report on both items in an accurate and timely manner. Wellington City Council has been engaging a single supplier for all carbon inventory related services, from software through to certification, since 2014.We have released an RFP (Reference 2021-031) on GETS to source a software solution that aligns with our current and anticipated future needs and we are also conducting the following market research activity to help us discover who in the market has the capability and expertise to deliver relevant, carbon inventory-specific services to help support us delivering on our net zero carbon commitment.
We are seeking information from suppliers in the market who currently provide:
a) Carbon Emissions Advisory Support Services
b) Carbon Emissions Factor Library
c) Carbon Emissions Auditing Services
d) Carbon Emissions Certification Services
The details that we're seeking are contained in the attached letter and information gained during this research activity will help us to inform our requirements and future sourcing activities* and may be shared with other local government bodies seeking to improve their carbon accounting activities.
*Note that the indicative RFx Release Date has been added in order to release this FPO. At this stage, Wellington City Council has not determined a sourcing strategy for these services.
---
Corporate Carbon Accounting Software
Ref 24608914
This Request for Proposal (RFP) invites suitably qualified suppliers to submit a Proposal for a carbon accounting software solution to help us continue to understand and track our carbon emissions, and deliver on Wellington City Council's net zero carbon by 2050 commitment.
The intent of this RFP is to deliver the following key outcomes:
An expanded and more detailed understanding of Wellington City Council's corporate value chain emissions through a robust and accurate corporate inventory of emissions sources.

An increase in timeliness of collected data by leveraging an automated, information gathering software solution that can be used both internally and externally.
To achieve these outcomes, we are seeking to engage an experienced software solution provider to provide, configure and support a relevant, modern, fit-for-purpose, Software as a Service (SaaS) carbon accounting software solution that will store, analyse and report on Council emission data for both internal and external stakeholders.
This solution will be able to automate data requests from within both WCC and with external suppliers and allow for detailed analysis of emission sources. Click the link above for more details

Close Date : Wednesday, 25 August 2021 12:00 PM
---
Freeze Dryers x 3
Ref 24618853
AgResearch is seeking 3 Freeze Dryer units to be installed at three of our facilities. One at our Te Ohu Rangahau Kai building, Palmerston North, one at our Grasslands Research Centre, Palmerston North, and one at our Ruakura Research Centre Hamilton.
Close Date : Thursday, 26 August 2021 4:00 PM
---
Ministry of Education – RFP Property Condition Assessment Collection Tool
Ref 24635418
The Government has set a target for all schools to provide quality learning environments by 2030.
This is also reflected as a strategic objective in the Ministry of Education's Te Rautaki Rawa Kura | School Property Strategy 2030.The Ministry has developed a model to measure the quality of physical learning environments across three main dimensions: asset condition, fitness for purpose and operational efficiency. Aspects of the model are being integrated into planning and investment processes progressively.
As part of this work, a new property condition framework has been developed to address shortcomings in our current asset management process and to also support wider asset management objectives. This will support planning and maintenance for property assets. In addition to asset condition, our model includes data on:
The school's perspective, through the School Evaluation of the Physical Environment (SEPE) questionnaire

Acoustics, lighting, thermal comfort, and indoor air quality, measured by Internal Environment Monitoring (IEM) devices

Electricity consumption
The Ministry is seeking a Property Condition Assessment Collection Tool that will support the implementation of its new condition framework.
The Collection Tool will allow internal and external users to accurately and consistently capture building and site data, photos, and files relating to the physical condition of property assets. The benefits we are seeking from the Collection Tool include:
Increasing the efficiency and consistency of the on-site assessment process

Improving the quality and accuracy of the resulting condition data

Automating the delivery of data to the Ministry
Close Date : Friday, 27 August 2021 5:00 PM
---
LED Lighting Upgrade for Parliament House, Parliamentary Library and Executive Wing
Ref 24625837
The buildings that make up the Parliamentary precinct are mostly lit by older technology light fittings. They tend to produce a far greater amount of heat in addition to the light. These fittings are far less energy efficient. Parliament is introducing new measures that will further reduce its carbon footprint and improve energy efficiency on the Parliamentary Precinct in Wellington.
This RFP relates to the engagement of a successful supplier to upgrade LED lighting for Parliament House, Parliamentary Library and Executive Wing to reduce our carbon footprint.
Please note: Parliamentary Services requires the tenderer to complete a Non-Disclosure and Undertaking Agreement (Appendix Six) period to release the Project Specification Parliamentary Precinct Upgrade to LED and Drawing Set.

Close Date : Thursday, 2 September 2021 4:30 PM
---
WUNI Stage1b Non-transmission solutions RFI
Ref 24646766
This request is issued by Transpower New Zealand Limited (Transpower). Transpower's aim is to obtain information to determine if there is a viable non-transmission solution (NTS) capable of meeting our requirements for the provision of voltage support in the Waikato and Upper North Island (WUNI) regions and being able to operate under a grid support contract (GSC) delivery model.
Close Date : Friday, 3 September 2021 2:00 PM
---
Lead Engineering Design Consultancy – Boiler House Conversion
Ref 24596851
We require an engineering design consultant with proven capability, depth of experience and a proven track record of performance in engineering design and design team leadership to lead, deliver and co-ordinate the design development for the Project to the detailed design stage and provide construction monitoring services.
Background: One of the key strategic objectives contained in the University of Canterbury's (UC) Strategic Vision 2020-2030 is to ensure that UC will be carbon net neutral by 2030. As part of the programme supporting UC's Low Carbon Energy Strategy, UC is carrying out two projects:
Conversion of the existing Ilam campus boilers 2, 3 and 4 from coal to wood chip and wood pellet fuel and associated works (Project) – this RFP provides for the work-stream for this Project; and

Conversion of a group of buildings to heating from Ground Source Heat Pump (GSHP) technology to reduce the overall load on the central campus boilers (GSHP Project) – a concurrent project that is subject to a separate RFP.
The Project and the GSHP Project are two distinct work streams that are based upon the strategies developed by UC through the master planning, feasibility study and concept design stages.

Close Date : Sunday, 5 September 2021 5:00 PM