Networking, NABERSNZ and Diamonds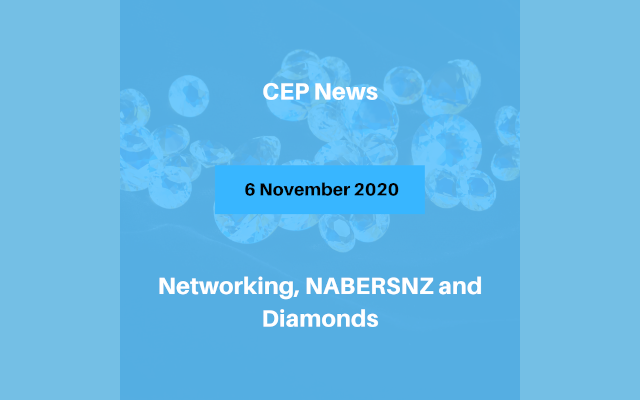 News from CEO – Mike Hopkins
It's time to block out your diaries for some networking events. Networking has been a bit sparse in 2020 for obvious reasons but we're taking the plunge with a round of events at the end of the month. The events will be running in Wellington on Monday 23rd, Auckland on Wednesday 25th and Christchurch on Monday 30th. All events will run from 6pm to 8pm with nibbles, drinks and scintillating conversation with your peers, fellow members and a few new guests as well just to get those business connections forged. Please save the dates in your diary and look out for the emails with venue specifics and registration links coming soon.
There was good news this week with the announcement that the Government has now mandated NABERSNZ assessments for its offices. This is something we and others in the industry have been advocating for some time. This is a good start but, of course, we'll be continuing with pushing for wider adoption of NABERSNZ across our commercial building stock.
At the global level, buildings still account for around a third of energy use and emissions. Good to see, then, that a trial of 10 AI enabled sites across Canada and the US has seen a 20-40% decrease in emissions from HVAC systems and average 25% decrease in energy costs. The systems use machine learning to predict a building's thermal load and adjust HVAC networks autonomously. Of course, they will still need calibrating, checking and monitoring for genuinely optimum performance.
CapGemini's World Energy Markets Observatory reported this week that emissions from the world's energy sector will be down 7%-8% for 2020 but expectations are that they'll bounce back next year. The report calls for meaningful carbon prices to be set in Europe where the average price over the period July 2018 to June 2019, i.e. pre COVID, was €27 (c. NZ$47). The carbon price in NZ is currently tracking at around the $35 level.
Carbon capture and storage has been receiving its fair share of attention recently. One of the big questions around CCS is what to do with the CO2. While some can be used in industry, much of the talk has been around storing it in disused mines or wells, often at considerable expense. This week's novel solutions are animal feed and diamonds. UK firm Deep Branch Technology is using captured CO2 and microbes to create proteins for animal feed. The company is building a facility at the Brightlands Chemelot Campus in the Netherlands, a materials and chemistry business community focused on lifecycle innovation, and expects to be in production by the middle of next year. With Finnish company Solar Foods researching a similar process for human foods, how long before we see a "CO2 burger" on the Air New Zealand long haul menu?
Meanwhile in Stroud, Gloucestershire, "Sky diamonds" are close to commercial production. Claiming to be the world's most eco-friendly source of diamonds, the process extracts carbon dioxide from the atmosphere and uses rainwater to produce methane and hydrogen for the manufacturing process. Synthetic diamonds have been around a while and can be "grown" in around two weeks, however, this process is claimed to be carbon negative despite involving heating plasma to very high temperatures. Research from Imperial College suggests it takes 1,000 tonnes of rock and earth, 3,890 litres of water and 108 Kg of CO2 emissions to produce a 1 carat diamond. The facility is intending to produce around 200 carats a month from early next year. In the week we lost Sean Connery, the process sounds like an ideal plot line for the next Bond movie.
Have a great and safe weekend.
Mike and the team
---
Industry Events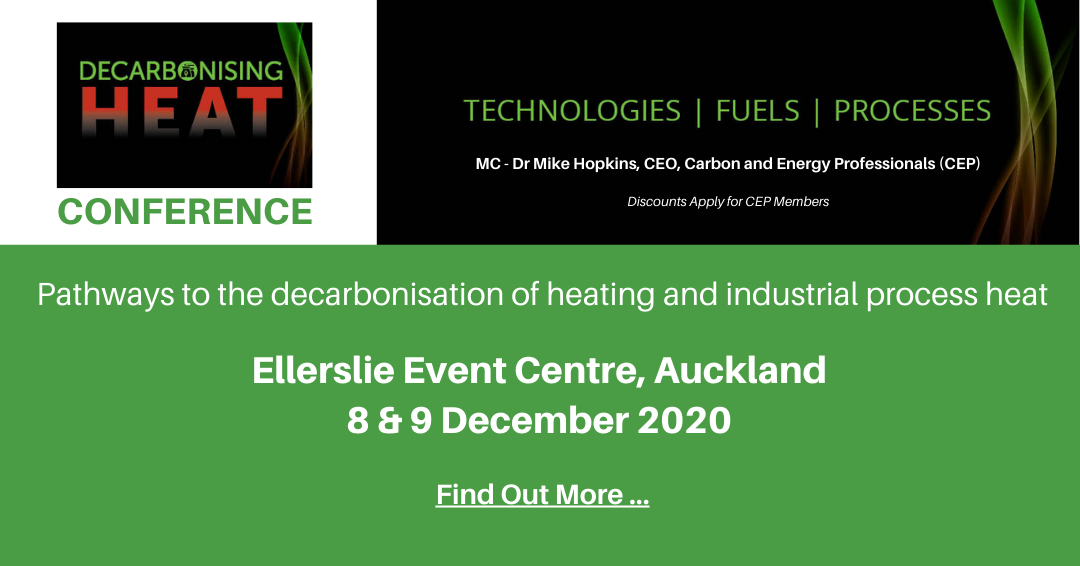 Decarbonising Heat Conference
Pathways to the decarbonisation of heating and industrial process heat.
MC: Mike Hopkins (CEO, CEP)
Dates: 8 & 9 December 2020
Location: Ellerslie Events Centre, Auckland
Discounts for CEP Members Apply –
Find out more …
---
Upcoming Events
Check out CEP Training courses, CEP Webinars and other Industry related events – coming up.
---
Advance Notice: Electrical Infrastructure Upgrade Supplier Panel
Ref 23557616
This Notice of Information (NOI) is to provide information ahead of the creation of the Electrical Infrastructure Upgrade Supplier Panel which is expected to be advertised on GETS in November 2020. This is provided as an indication only of the scope and will not form part of any future tender documents or contract documents.
The Services refer to the upgrades in the electrical infrastructure required to support the Heating Infrastructure Upgrade programme. There are 27 buildings currently connected to LU's existing central heating plant comprising two coal-fired steam boilers. LU has committed to switching off the coal-fired steam boilers by the end of 2024 to reduce carbon emissions through the deployment of decentralised, low carbon solutions for space heating requirements – ultimately to become net carbon zero by 2030. These low carbon solutions may include but not be limited to:
hot water heat pumps;
split AC units;
electrode boiler; and
electric hot water boilers.
Close Date: Monday, 9 November 2020 4:00 PM
---
Advance Notice: Pacific Island Climate Change Environmental Vulnerability
Ref 23500170
Climate Change Programme
MFAT has initiated a Climate Change Programme (CCP) as part of its commitment to support countries to respond to climate change. The CCP has a significant focus on the Pacific region and on adaptation. MFAT now seeks to procure Services to better understand Pacific current and future exposure and vulnerability to fast- and slow-onset disasters resulting from the environmental impacts of climate change.

Close Date: Tuesday, 10 November 2020 5:00 PM
---
Yarrow Stadium – EOI Lighting Upgrade
Ref 23543661
The Principal, Taranaki Stadium Trust, to provide a 'Expression of Interest' (EOI) for the Specialist Stadium Lighting Design Services of the Yarrow Stadium Re-Development at New Plymouth. In summary, this involves: Upon the appointment of the supplier and contractor for the lighting installation by the design specialist, it is envisaged the design specialist will observe construction through to final completion and commissioning of the lighting to the stadium.
Close Date: Monday 16 November 2020 4:00PM
---
CON2020093 Havelock North Library Lighting and Switchboards Renewal
Ref 23555171
Tenders are requested for the supply and installation of new LED light fittings and 3No. switchboards to the Havelock North Public Library in accordance with the plans and specifications provided for the Hastings District Council. Questions must be submitted through GETS only – questions close Thursday 12 November at 3:00 PM.
Close Date: Wednesday, 18 November 2020 3:00 PM
---
Advance Notice – Improving Classrooms in Small or Remote Schools Programme
Ref 22500892
This notice is to inform suppliers that the Ministry will be embarking on a programme to improve the internal environments of almost 600 state schools that are small or remote. The programme is expected to take up to four years to complete. Inclusion definitions are:
Schools that have four or less entitled* teaching spaces (about 100 students)
Schools that have an isolation index* of 2.0 or higher on the Ministry's Isolation Index
The improvements will enhance aspects of the learning environment associated with fitness for purpose, operational efficiency and condition. The improvements are: LEDs, acoustic panels, thermal blankets and residual current devices (RCDs) for electrical safety.
Close Date :Thursday, 31 December 2020 5:00 PM
---
Advance Notice – Replace light fittings in Mcindoe
Ref 22500892
Please note that this is a 'Future Procurement Opportunity' and its sole purpose is to inform the market about opportunities that may be coming up over the next 12 months. We would ask that suppliers refrain from contacting individuals within CMDHB for additional information on this project as it is likely to be published on GETS as an open process. As no detailed planning has yet been undertaken for this, we do not have any additional information.
All dates are indicative and subject to change.
Close Date: Q4 2020 (tbc)