Dasgupta, Greenwashing and New Standards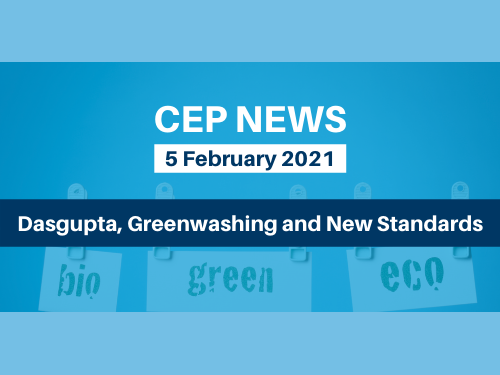 News from CEO – Mike Hopkins
Local news was dominated this week by the release for consultation of the Climate Change Commission's first advisory covering the period to 2035. There's far too much to go into detail here but please forward comments to us by the end of this month as we'll be responding to the consultation, which closes on 14 March. You can download the consultation document here.
This week saw the release of the Dasgupta Review. For those unfamiliar with it, the report considers The Economics of Biodiversity and is being heralded as the biggest and most comprehensive review of the role of natural capital in determining planetary, societal and economic prosperity. It's cited by many (e.g. Sir David Attenborough and the WWF) as equally as significant as the Stern Review of 2006 on The Economics of Climate Change. The Review concludes that humans have consistently mismanaged natural assets and our demands on nature now far exceed its capacity to provide resources. The Review calls for the expansion of protected areas and increased investment into nature-based solutions. You can download the review here.
The prevalence of greenwashing was highlighted recently with a report from the International Consumer Protection Enforcement Network (ICPEN) that found 40% of websites made questionable claims on their environmental performance. The most common failings were self-declared sustainability labelling, rather than endorsement from an accredited source, and vague definitions of "eco" and "natural".
Carbon markets appear to be making headway internationally with 20% growth in 2020. This is the fourth consecutive year of record growth and schemes covered emissions to the value of €230bn last year. Europe leads the way with its markets making up 90% of the world's.
A reminder came out this week about impending changes to air conditioner/heat pump performance standards and labelling. New standards come into force on 1 July this year and impact NZ manufactured and imported products. You can check out the new standards and labelling here.
This week, please join me in welcoming new members: Peng Yi (Masters student at Massey), Leah Graham (PhD student at Victoria), Markus Benter-Lynch (Project Director, Coffey Services, Christchurch) and Hugh McCoshim (Energy, Carbon and Sustainability Engineer, Lumen, Wellington).
Finally, have a great and safe – and for some long – weekend.
Mike and the team
---
Check out CEP Training courses, CEP Webinars and other Industry related events – coming up.
---
Tender Opportunities
ADVANCE NOTICE – Management of School Coal Builder Programme
Ref 23757601
T
he Ministry of Education is seeking a supplier to program and manage the boiler replacement process, and the project management, design, delivery and commissioning of each school solution.
Each school, that currently have a coal boiler or end of life boiler will have a tailored heating solution with the new fuels being either biomass or electricity. Solutions may include replacement with new boilers or other heating and/or cooling solutions. We seek suppliers that can demonstrate they have a robust, method, approach, systems and processes to effectively manage cost, time and quality risks of this programme.
Not within scope of this tender is the supply of the heating solution components, and heating solution reports and other engineering reports.
The tender is due for release in February 2021.
---
CDHB Selwyn Health Hub Generator
The Canterbury District Health Board (CDHB) is seeking a standalone 150kVA diesel generator set as outlined in the attached specification document.
The generator will be required to be delivered on or before the 1st of July 2021 (or other time as negotiated) to the Selwyn Health Hub project, Norman Kirk Drive, Rolleston, ensuring enough time for the generator system to be installed and commissioned before the facility is occupied by the CDHB. Occupation is currently set down for mid-August 2021.
Please note that due to the Christmas period there is split timing for questions.
Close Date: Tuesday, 9 February 2021 2:00PM

---
Gore Street Features (Lighting)
Ref 23739226
The Gore District Council (GDC) is looking for suitable suppliers to submit their solutions and proposals for street features, in particular for improvement in the lighting of an area known locally as the 'Triangle Reserve' as the primary scope. It is home to Gore's famous brown trout statue. The scope of work for the primary works is as follows:
All items to be supplied on a turn-key basis and according to the relevant New Zealand standards and the

Gore District Plan

All lighting items must be anti-vandalism up to a high extent

The primary works at "Triangle Reserve" are:
a) Illuminating the trout statue;

b) Illuminating the Gore sign;

c) Illuminating the trees (11 in number) with various colours;

d) Improving pedestrian lighting within the Triangle Reserve;

e) A provision for a power panel for social events.
Close Date: Wednesday, 10 February 2021 4:00PM

---
Notice of Intent for design and build of Christchurch Organic Plant Upgrade
Ref 23903990
The purpose of this Notice of Intent is to communicate to the market the Council's needs to deliver the Organics Plant Upgrade project, determine the market appetite to participate in a tender process given the contract works, timeframes and procurement delivery model, understand potential risks associated to the delivery of contract works and identify Prospective Suppliers with expertise, capability and capacity in delivery of similar projects.
The following are the anticipated objectives that will allow the Council to meet the NOI purposes:
Market engagement to allow for Prospective Supplier's advanced planning and Council's preparation of the tender documents (technical, commercial and legal);

Open a communication channel between the Council and Prospective Suppliers for discussion of efficient ways to deliver the project whilst business requirements are being developed;

Receive confirmation of interest from Prospective Suppliers interested in participating on the tender process by returning the Proposal Acknowledgment Form attached;

Understand from Prospective Suppliers any issues around contractual allocation of risks (i.e. Bond, Retention, LDs, advance payments, etc) and the procurement delivery model.
Close Date: Wednesday, 17 February 2021 12:00PM
---
(1912) Te Puru School Main Contractor B,C,D,G: Upgrade + Breakout; B,D: Exterior Learning; Lighting & Heating upgrade
Ref 23772969
Subscribe to this notice for full access.
Close Date: Friday, 19 February 2021 5:00 PM
---
Nelson City Council – NRSBU – Generators supply – 02 February 2021

Ref 23927980
The Nelson Regional Sewerage Business Unit (NRSBU) operates the Nelson Regional Sewerage Scheme, which collects, conveys and treats waste from Tahunanui, Stoke, Richmond, Brightwater, Wakefield & Mapua. NRSBU is seeking to engage a generator supplier to provide, deliver, place and commission suitable backup generators to provide emergency power to pump stations and the treatment plant. The contract scope includes:
2x 1000 kVA

2x 750 kVA

1x 75 kVA
Supply of suitable auxiliary fuel tank(s) for each generator (if required)
Delivery of units to site, and fixing to pre-constructed pads
Commissioning of generators
Close Date: Friday, 26 February 2021 3:00 PM
---
CDHB Biomass Boiler Fuel Supply
Ref 23924624
Background: Canterbury District Health Board currently operate two biomass boilers, with a third expecting to become operational during 2021. These boilers are primarily used to provide heating and hot water to the hospital sites in Christchurch, along with some steam used for Sterile Services and Catering equipment.
What we are buying and why:We require value for money, reliable and secure biomass fuel supply for the proposed Christchurch Hospital Campus boiler, preferably delivered from a depot in Christchurch or reasonably close to it. Security of supply is critical to us, especially in times of disaster, so that we can continue to provide health services. We are seeking suppliers that are able to demonstrate that they can supply a large portion of the approximately 315,000 GJs of wood waste biofuel and/or 20,000GJs of wood chip that we require per annum by mid-2021.
We welcome solutions that make suitable use of resources that are normally considered to be waste products. Our preference is to use suppliers that can show that their wood and wood products are from sustainably-managed sources.
Christchurch Campus fuel requirements; P100M50A2, ISO-17225-1:2014 (oversize up to 350mm). 1 delivery, 3-4 times a year of dry fuel with a moisture content of about 30% is required for start up.
Close Date: Friday, 5 March 2021 12:00 PM

---
Capital & Coast and Hutt Valley DHB Minor trades Panel registration

Ref 23926411
The Facilities Management teams of both Capital and Coast District Health Board and Hutt Valley District Health Board require support for their Facilities Management teams to action, address and resolve facilities maintenance issues. It is the DHBs expectation that the successful businesses shortlisted after this Registration of Interest will create a Panel of providers that can satisfy a series of requirements and trade specifications. SME's only; Large Corporations and Facility Management companies are excluded, The trades required are
Carpentry & Joinery
Electrical
Fitters
Flooring
Glazing
Handyman / General Maintenance
Heating / Ventilation / Air Conditioning (HVAC)
Painting
Plumbing
Refrigeration
Roofing
Scaffolding
You may respond to one or as many trades you are qualified for, and for as many sites (Hutt Valley and or Wellington, Porirua) you can manage.
Close Date: Friday, 5 March 2021 4:00 PM
---
ADVANCE NOTICE – Maintenance and Renewal of Street lighting 2021-2024
Ref 23908331
This contract advance notice is for routine and emergency maintenance and renewal of streetlighting on the Matamata-Piako District Council's roading network and urban sections of State Highways located within the 50 to 70 km/hr speed zones.
We intend to go to market in April 2021. The opportunity will be advertised on the Government Electronic Tender System.
Close Date: Friday, 12 March 2021 4:00 PM