COP27, Efficiency Improvements Too Slow and Increasing EV Prices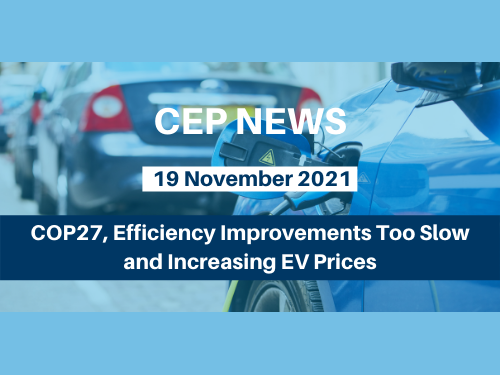 News from CEO – Mike Hopkins
Kia ora,
Negotiators burnt the midnight oil at the end of last week to generate something from COP26 that everyone there could sign up to. While some may say the final agreement was watered down, others will point to the fact there was agreement and that it included some valuable commitments. Attention now turns to getting things done and then COP27, which is in Egypt.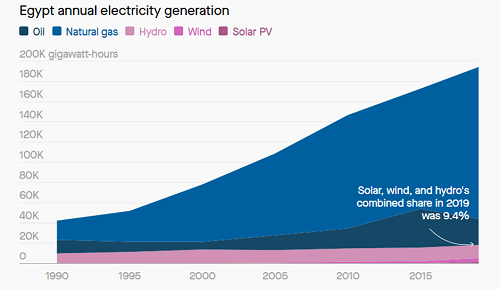 Egypt, which has not set a zero emissions target, is an interesting choice given it is the largest non-OPEC oil producer in Africa and second largest gas producer. What is believed to be the largest offshore gas deposit in the Mediterranean, which sits just off the Egyptian coast, was discovered in 2015 and now supports three new, large power stations. Egypt has become a net energy exporter. In 2020, US$4bn (NZ$5.7bn) was invested in gas fields and last month three large, onshore deposits were discovered. Arguably then, an interesting case study on addressing the energy trilemma – the country previously suffered considerable blackouts – but at what cost? And as for COP28, that's destined for the United Arab Emirates, an OPEC member and producer of 3 million barrels a day. Few could deny the UN is at least trying to get to the heart of the matter.
Hot off the press from the IEA is that improvements in energy efficiency, at least at current pace, are not sufficient to meet international climate change goals. The global rate of improvement in energy intensity is estimated at 1.9% for 2021, about average for the last ten years. We need an improvement rate of 4% p.a. to hit 2030 goals. The report indicates increased investment in efficiency could also create an extra 4 million jobs by 2030.
The latest research from BNEF (Bloomberg) indicates global battery storage capacity will increase 20-fold by 2030. It predicts the battery storage market (excluding EVs) will attract US$262bn (NZ$372bn) in capital investment by 2030. It estimates global battery storage capacity in 2020 was 29GWh and by the end of the decade will be in excess of 1TWh.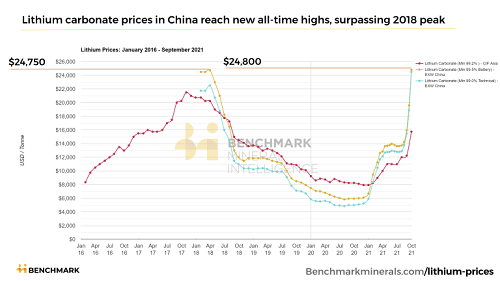 Meanwhile, GlobalData predicts the price of lithium carbonate will increase from an average of around US$10,000 (NZ$14,200) a tonne last year to US$14,000 (NZ$20,000) a tonne by 2024, pushing up the price of EVs over the next few years. China holds a dominant share of the world's lithium-ion battery production with 80.5% of the market. GlobalData's five-year projection indicates the US and Europe will redress some of that dominance but by 2026 China is still expected to hold over 60% of the market and be manufacturing over half of their estimated global EV production of 12.7 million units.
In reality, supply constraints and high demand have seen lithium carbonate prices become highly volatile. Prices reached an all-time high of just under US$25,000 (NZ$36,000) a tonne at the end of October. If prices continue at that level the implications on the cost of EVs in the next few years would be significant. With the EV incentive scheme extended out to March next year, maybe now's the time to buy.
Good, then, to see battery recycling improving all the time. Swedish company Northvolt has just announced what it claims is the world's first fully recycled battery cell using only recycled manganese, cobalt and nickel in its production. It is now planning to upscale its Skellefteå site to be able to recycle 125,000 tonnes of batteries annually.
Researchers at Monash University have just published the results of a detailed mapping of the PV potential of Melbourne, claimed to be the most encompassing, city-wide study so far. They conclude PV could provide 74% of the city's energy needs. They estimate 65% could come from rooftop solar, 6% from wall-integrated solar and 4% from window integrated solar. Add some efficiency to that (no improvements were factored in) and some modest wind and it is conceivable Melbourne's built environment could be zero emissions, at least for operational-emissions.
On behalf of CEP, I sit on the advisory panel for the BRANZ-funded Massey University research programme into helping the construction industry transition to net zero. One of the projects, "New Zealand construction industry's perspective towards zero-carbon buildings", is currently in data collection and the student and supervisor would appreciate hearing the views of those involved in the construction sector. There is a short data collection survey, which can be accessed here. If you have a few minutes, please help out and maybe circulate to relevant colleagues as well when you've finished.
Wishing you all a safe and great weekend.
Mike and the team
---

Accelerating Decarbonisation will be giving it some jandal in Rotorua on 1st and 2nd June 2022 and there will be an associated exhibition for product and service providers.
Registration will be open soon and opportunities for sponsorship can be discussed with CEP now.
---
Upcoming Events
Check out CEP Training courses, CEP Webinars and other Industry related events – coming up.
---
Tender Opportunities
Warmer Kiwi Homes – approved heat pump appliances
Ref 25064307
EECA will shortly be releasing a Contract Application to form its panel to supply heat pumps to the Warmer Kiwi Homes programme for the 2022-2026 (1 July 2022 to 30 June 2026) years.
The delivery model for Heating Product Suppliers will be a supplier panel. Suppliers will be required to meet simple pre-conditions for selection tot he panel. The supplier panel is expected to be in place for four-years.
The proposed dates for this procurement are:
Contract application opens: 22 November 2021
Contract application closes: 13 December 2021
The procurement process includes a Supplier briefing to be held on 1 December 2021.
Close Date: Friday, 22 November 2021 12:00 PM
---
Electrical Contractor for the upgrade of distribution boards and lighting at Albany Junior High School
Ref 25009621
Electrical Contractor at Albany Junior High School. The project includes the procurement for the replacement of the original mainly fluorescent light fittings to LED lightings in the following eight Blocks: Administration; Whanau Centre Tui; Whanau Centre Makomako; Gym; Whanau Kiwi; Music Centre; Whanau Ruru, and Performing Arts Centre. Work also includes the upgrading of electrical distribution boards to suit the new circuits.
The Contract Works required are:
Replacement of all light fittings in teaching spaces, common areas and service rooms
Fluorescent fittings replaced with LED light fittings
Approximate number of fittings is 1,165. Tenderers to fully verify the exact number required by site inspection and state this in their tender.
Work to proceed systematically with one block finished before the next is tackled unless resources are sufficient to allow parallel works.
Work to be undertaken without interference to the normal school activities of the students and staff
The Contractor will be engaged through a Medium Works Contract. The Principal prefers there to be no drawings and specification related Tags.
See Tender Documents for further information, especially the Schedule of Prices.
Close Date: Thursday, 25 November 2021 5:00 PM
---
RFT – Main Building Contractor, Hall Refurbishment, Tawa School, Wellington
Ref 25013135
Tawa School is comprised of single storey buildings of varied aged and styles.
The work in the hall will fit an acoustic ceiling with LED lighting and insulation, pinboard to walls, window operating gear, heat pumps and new clear finish to floor. Off the technology space provide a glazed opening onto a new covered deck area and install a dust extractor.
The work will provide new acoustic wall and ceiling linings, window gear and entry doors. New lighting, cable services and fixtures will be replaced or new as required by the final design solution.
The scheme will be traditionally executed with a full design team employed by the Tawa School Board of Trustees producing full construction documentation.
Closing Date: Thursday, 25 November 2021 5:00 PM
---
Ōpōtiki Infill Street lighting 2021/22 & 2022/23
Ref 25057974
Ōpōtiki District Council (ODC) is inviting tenders to complete infill street lighting to bring the Ōpōtiki Township and Hukutaia area up to the required standard for lighting in public spaces. Whitikau Reserve is under construction and requires suitable lighting to the required standards.
Closing Date: Thursday, 25 November 2021 4:00 PM
---
UC Beatrice Tinsley – HVAC upgrade supply and installation
Ref 25045873
We are seeking the services of a competent mechanical Contractor to retrofit mechanical ventilation (supply and installation) into a section of Beatrice Tinsley building. The Beatrice Tinsley building is located at University of Canterbury's Ilam (Christchurch) campus. The contractor will deliver the services of a main contractor.
Closing Date: Monday, 29 November 2021 5:00 PM
---
LED Lighting Upgrade for Christchurch Women's Hospital
Ref 25039156
Christchurch Women's Hospital (CWH) was built in 2005 and the existing fluorescent lighting system is nearly end of the life and inefficienct. We are seeking a contractor to upgrade the interior lights for the CWH. This project requires a completed solution which includes the removal and disposal of the existing old lights and the supply and installation of new LED lights. The purpose of this update is not only to reduce CDHB's carbon footprint, but also improve lighting performance and eliminate some potential health and safety hazards.
What we don't want: A provider who could only supply LEDs without the installation service.
What's important to us: We are looking for contractors who must be competent, experienced and confident to deliver the LED lighting project in a professional and timely manner. The contractors should have a good track record in the supplying and installation of LED lighting projects with a minimum five-year warranty. To minimise or eliminate any disturbance to normal operation of CDHB, all contractors must strictly follow planned working schedules and any relevant polices.
Supplier visits to view the site are highly recommended and by appointment only. Please use the Q&A function prior to 17/11/2021 on GETS to request a visit.
Closing Date: Wednesday, 1 December 2021 12:00 PM
---
Climate (im)mobility Research in the Pacific – Researchers
Ref 25042872
The Ministry of Foreign Affairs and Trade (MFAT) is seeking suppliers (individuals and/or organisations) to deliver research services to better understand past, current and future climate (im)mobility in the Pacific, and its impact on communities in the Pacific and in New Zealand. Research outputs will be used to inform work under the New Zealand aid programme and shared with relevant stakeholders, including Pacific governments and other New Zealand ministries.
Suppliers will need to be willing to enter into sub-contracting arrangements with the successful respondent to a parallel procurement process "Research investigating climate-related (im)mobility in the Pacific – Project Management", GETS # who will provide Project Management functions to oversight and deliver this project.
Closing Date: Monday, 6 December 2021 10:00 AM
---