Signs of change from the oil giants?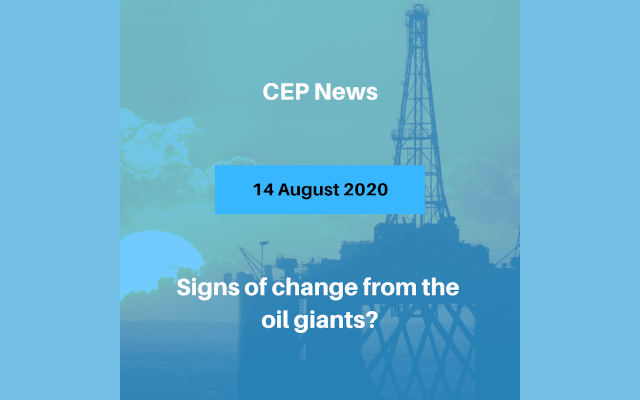 News from CEO – Mike Hopkins
Well, it's back with us and already disruptive. I was looking forward this week to catching up with a few members at Facilities Integrate but it was not to be. I never even got to the venue. We travel light for these events and the couple of banners can easily be set up in a few minutes on the day. So, when the alerts started coming through on Tuesday night all that was left was planning the escape back to Wellington. Our thoughts go out to all our friends and colleagues who've had to go back into lockdown along with the hope things don't worsen.
The demise of the oil industry is much mooted, often with little material change in practices from the major players. BP's latest strategy announcements indicate there may be genuine signs of change. As well as announcing significant directional change, the pace of change is recognised as critical with 2030 being cited as a milestone year. The strategy indicates BP has already called a halt to hydrocarbon exploration in new countries and, by the end of the decade, is expecting to be producing 30-40% less oil and gas than it does now and to have increased tenfold its investment in low carbon energies. Public pressure, investor pressure and current low oil prices will all have had an influence but whatever the root cause, the fact remains the oil giants are writing down the value of their assets like never before. The strategy announcement coincided with a halving of BP's dividend and yet was well received by investors. Despite the slashed dividend, the share price increased 7%. In short, there is a realisation these juggernauts need to change and a recognition they will be more financially sustainable when they do. Naturally, there was some small print around some of the more grandiose claims in the strategy but, nevertheless, it could be the beginning of some real change in acceptance, approach and action. Let's hope so.
The red brick is a common sight in many parts of the world and even has a group of well-established universities carrying the moniker as a signal of pride. Scientists from Washington University in St Louis (not one of the original Red Brick Universities, of course) have found another use for the common red brick – that of energy storage. Bricks are coated with a polymer which enables the favourite tool of the smash and grab merchant to store energy as an ion sponge. The red colouring of the bricks (from iron oxide) is essential for causing the reaction in the polymer. The researchers claim 50 bricks, charged by solar cells can power emergency lighting for five hours. We've seen a couple of fishy stories emerge this week.
British scientists have warned warming oceans are threatening the British national dish of fish and chips with notable declines in the stock of several cold water fish species, most notably the Atlantic Cod. Better news for shellfish, though, as it seems offshore windfarms aren't keeping lobsters awake at night. A six year study conducted during the build and operation of the Westermost Rough offshore windfarm has concluded there have been no discernible, negative impacts on population or catch of the crustaceans and, indeed, the population of younger lobsters seems to have increased. Excellent news for proponents of offshore wind farms for NZ and lovers of cray.
Finally this week, welcome to new members Shaun Morrow, Business Development at Mainfreight and Eleanor Trueman, Consultant at Truely Sustainable.
Have a great and safe weekend.
Mike and the team
---
Upcoming Events
Check out CEP Training courses, CEP Webinars and other Industry related events – coming up.
---
Tender Opportunities
Streetlighting Maintenance and Renewal Services
Ref 23017402
This procurement relates to the delivery of Streetlighting Maintenance and Renewals Services for Porirua City Council. This includes the streetlights through the roading assets and road corridor including accessways etc. of Porirua City Council. The Council is looking to engage a contractor with the experience, skills, capacity and capability in these services.
Close Date: Friday, 21 August 2020 3:00 PM
---
Timaru South School Heat Pump Installation – Contractor ROI
Ref 23068421
This RFI is to select contractors for subsequent tender.The work involves installation of approximately 30 heat pumps at the school, electrical mains & switchboard upgrades and various electrical connections.
Close Date: Wednesday, 26 August 2020 5:00 PM
---
Heating and Cooling contractor for the installation of a heating and cooling system at Whakatane High School

Ref 23063243
To provide heating and cooling across the school with the installation of 57 Heat Pump systems across classrooms and work spaces where none have been installed.
Close Date: Friday, 28 August 2020 5:00 PM
---
Papua New Guinea Electrification Partnership – Project Management Services

Ref 23029127
The Ministry of Foreign Affairs and Trade (MFAT) is seeking Registrations of Interest (ROI) from suitably qualified and experienced organisations or consultants (including consortia) to manage and provide technical support to the Papua New Guinea Programme team to deliver existing electrification activities (Enga and ROGEP) and New Zealand's pipeline of Papua New Guinea Electrification Programme (PEP) related activities. These activities fall under the PEP that will help support PNG's electrification ambition of achieving 70% electrification by 2030.
Close Date: Wednesday, 2 September 2020 1:00 PM
---
Advance Notice – Auckland DHB Starship Children's Hospital PICU and Atrium

Ref 22940101
Advance Notice of a Contract Opportunity – Auckland DHB Starship Children's Hospital Paediatric Intensive Care Unit (PICU) and Atrium – subscribe to notice for more information.
The preliminary design project has been completed and Auckland DHB is looking to approach the market for consultants to undertake the completion of the design, including;- Project Management- Architecture- Building Services (Mech / Elec / Hyd / Med Gas / Fire Protection / ICT / Security / Nurse Call).
Close Date: Friday, 9 October 2020 5:00 PM
---
Advance Notice – Improving Classrooms in Small or Remote Schools Programme
Ref 22500892
This notice is to inform suppliers that the Ministry will be embarking on a programme to improve the internal environments of almost 600 state schools that are small or remote. The programme is expected to take up to four years to complete. Inclusion definitions are:
• Schools that have four or less entitled* teaching spaces (about 100 students)
• Schools that have an isolation index* of 2.0 or higher on the Ministry's Isolation Index
The improvements will enhance aspects of the learning environment associated with fitness for purpose, operational efficiency and condition. The improvements are: LEDs, acoustic panels, thermal blankets and residual current devices (RCDs) for electrical safety.
Close Date :Thursday, 31 December 2020 5:00 PM