Energy Management for Facilities Managers Training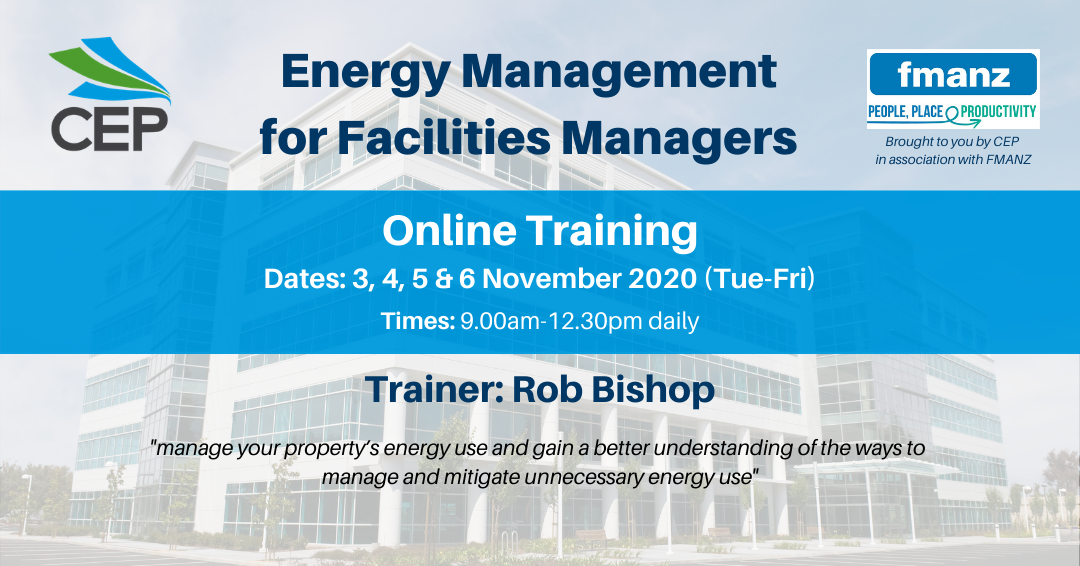 The Energy Management for Facilities Managers course is for professionals who manage buildings and facilities day-to-day.
It was prepared with the help of the Facilities Management Association of New Zealand and offers training in energy management, focusing on the ways that building systems can make the most efficient use of resources.
Learn how to manage your property's energy use and gain a better understanding of the ways to manage and mitigate unnecessary energy use. Hear how to make the building perform more efficiently which can lead to substantial short and long term energy and cost savings.
The training course is set at the equivalent of Levels 5-6 on the NZ Qualifications Framework.
Energy Management for Facilities Managers Training Flyer pdf
---
Who will benefit most from this training?
The course has been designed for commercial / office building facilities and maintenance managers, as well as property owners and property managers, who want to better understand the energy savings opportunities available and the strategies to implement them.
---
Online Course Content
This presentation and workshop-style course will cover the following topics:
Energy Management Fundamentals
The Energy Problem (and the Building Solution)
The Energy Management Process and ISO50001
Energy Purchasing
The Business Case
Strategic Energy Management
Lighting Efficiency
Data Centre Energy use and Savings Potential
Energy Accounting
Indoor Air Quality
Strategic Planning for Energy Management
Building Services and Using the BMS
Building Heating and Cooling
HVAC Systems
Energy Savings Verification
Optimising HVAC Controls for Comfort and Efficiency
Energy Efficient Fit out and Tenant Comfort
The Energy Audit
Advanced Energy Services
Optimising Energy Efficiency
Using the BMS
Trend Logging
Energy Management Reviews and Gap Analysis
Trainer: Rob Bishop
---
Registration Details