ULEZs, Increasing Climate Hazards and SAF Takes Off
In this issue:
Should we introduce low emission zones?
Anyone doubting the effectiveness of low emission zones or ultra-low emission zones, should take a look at the 1-year report of the Inner London, ULEZ scheme published earlier this year. London now sees a 94.4% compliance rate for the ULEZ standard, a cleaner heavy vehicle fleet, fewer diesel vehicles, reduced traffic, a 23% reduction in NOx, a 7% reduction in particulate emissions (19% in the inner zone) and a 3% saving in CO2 emissions. Of course, zoning like this is not universally popular but its positive effect on pollution and traffic is difficult to deny. With congestion charging on the agenda for both main political parties at the coming election, should we really be asking if low emission zones would be more effective, or added to the policy mix?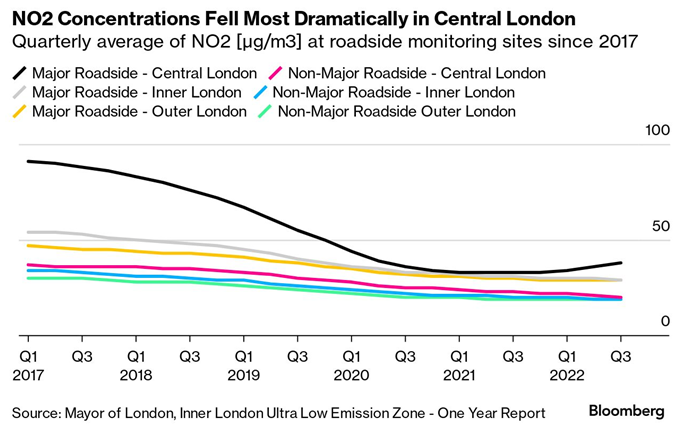 80% of cities faced a climate hazard last year
A recent survey from CDP reveals 80% of responding cities (1,090 respondents) revealed facing a climate hazard in 2022. 70% expect hazards to be more intense in the future and 58% expect increased frequency. Extreme heat was the most cited hazard with over half of the cities reporting an occurrence.
Clean energy day
The UN has declared 26th January to be Clean Energy Day. The date coincides with the foundation of the International Renewable Energy Agency in 2009.
SAF takes off
Scientists in Brazil have discovered an enzyme that can replace metal-based catalysts in producing biofuels, specifically in the production of aviation biokerosene. The key benefit of the discovery is in the deoxygenation process, which can be performed biologically rather than chemically, under milder conditions and with improved selectivity making it cheaper and more efficient. The fuels produced can be drop-in replacement for petroleum based products.
Sustainability credentials crucial for job-seekers
A UK survey on employee expectations has found one in five workers would not apply for a job with a company that doesn't prioritise sustainability. It also reported 14% of employees felt they needed to take sustainability into their own hands because their employer wasn't doing enough.
Green Riders
The British actors' union, Equity, has launched a campaign for members to sign up to a green rider scheme. A "rider" is a special condition added to a performer's contract. The union is encouraging performers include sustainability clauses into contracts covering things such as travel, accommodation and catering. Equity claims a big budget movie produces 2,840 tonnes of CO2 on average and much can be done to bring this down. Over 100 actors, including Stephen Fry and Bill Nighy, are already signed up.
Fun climate education
Helping people understand climate change helps create action and change. Climate Fresk is an educational tool that helps adults and children understand the causes and implications of climate change in a fun way. The tool is available in 45 languages and is "played" in a 3-hour workshop. So far, over a million people have engaged across 130 countries. The tool is free for non-commercial and non-professional use and is great for schools. Use in other applications carries a nominal fee. The idea is well worth a look.