Renewables March On, Performance Contracts Open Opportunities and a Sugar Rush for Batteries
In this issue:
Renewables to hit a third next year
That's the prediction of the IEA in its July update to its Electricity Market Report. Deployment of new renewables in 2023 and 2024 is on track to exceed growth in demand. Meanwhile, fossil-fuelled generation is predicted to fall by 0.6% in 2023 and 1.2% in 2024 and emissions from fossil fuelled generation to fall by 1% each year. Europe is leading the way in reducing demand for electricity, driven by its energy crisis. Where those reductions is coming from makes interesting reading.
Estimated drivers of change in electricity demand in the EU, 2022 v 2021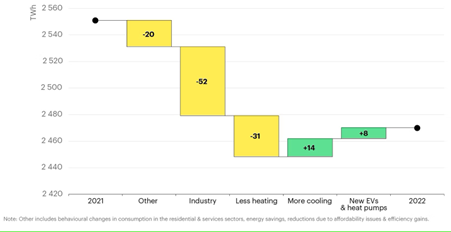 Solar and wind to hit a third by 2030
Of course, the IEA includes bioenergy and hydro in its definition of renewables and bioenergy currently accounts for more than half of renewable electricity generation. Focussing on solar and wind, analysis by the Rocky Mountain Institute, concludes this pairing will hit the one third threshold by 2030.
Recognising skills
One of the key conclusions emerging from a new UK report on delivering a workforce fit to enable the energy transition is the need for recognition of skills. The report is backed by an interesting collaboration of large corporates and unions and is focused on vocational rather than professional-level training. The need to attract youngsters into the area through apprenticeship support, funding and an elevation of status are some of the key recommendations.
Performance contracts for multi-occupancy dwellings
Notwithstanding differences in regulations between the US and NZ and a stronger, current appetite for performance contracting in the US, a new report from the RMI will be an interesting read for those interested in driving efficiency improvements in multi-occupancy dwellings or complexes. For institutional owners, there could be benefit through allowing deep efficiency retrofits with low capital outlay. For private owners, many body corporates in NZ already employ long term maintenance contracts, so is energy performance contracting that much of a stretch?
A sugar rush for batteries
The addition of a simple, starch-based sugar has significantly boosted the performance of flow batteries to the point where scientists at the Pacific Northwest National Laboratory have developed a flow battery with a 60% increase in peak power that is also capable of retaining its capacity to store and release energy for over a year. Flow batteries are a relatively cheap, scalable mechanism for attaining grid level storage.