Generation Emissions Peaking, Europe Cleans its Washing and Lab Meat is 25x as Carbon Costly
In this issue:
Have generation emissions peaked?
The latest Global Electricity Review from Ember reveals coal's share of the generation mix continues to slip. While the absolute level of coal fired generation has gone up, its proportion of the mix is dropping as renewables, especially wind and solar, come in cheaper for new generation. The share of gas has remained fairly stable and, perhaps the most interesting conclusion of the analysis, is that emissions may well have peaked in 2022.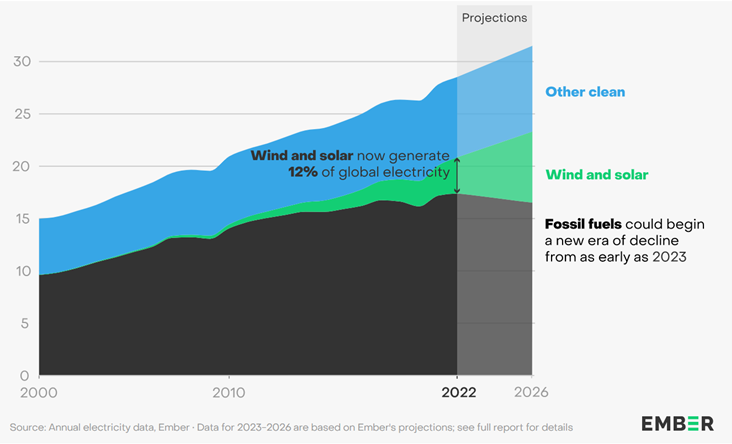 Europe cleans its washing
The EU is moving to combat greenwashing with proposed regulations curbing companies' ability to claim carbon neutrality through offsetting. The draft bans the use of vague terminology, such as "environmentally friendly", "natural" and "eco", unless there is evidence to support the claim. The draft also aims to restrict the use of sustainability labels to official certification schemes only. The draft proposal received 544 votes in favour, 18 against and 17 abstentions in the EU Parliament. Talks now begin with individual member states.
European emissions heading in the right direction
GHG emissions from industry and power generation across the European Union are coming down. While economies around the world saw a significant decrease during the pandemic, Europe can now boast its Q1 2023 emissions are lower than the equivalent quarter three years ago, the peak of the COVID slowdown. The upsurge in renewables and efficiency improvements are cited as the main drivers.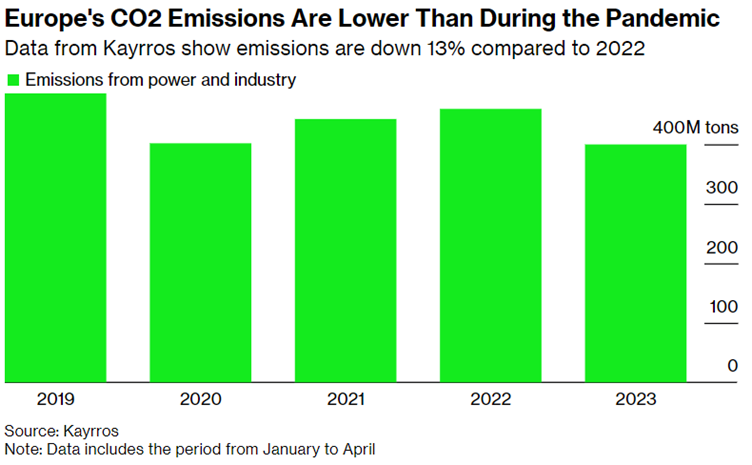 Profit injustice?
Nine of the world's largest energy companies reported aggregated profits for the first quarter of 2023 of over US$100bn (NZ$160bn). Their annual profits for 2022 came in at $457bn (NZ$734bn). That means just those nine firms could provide one-sixth of the annual global investment pledged by governments to combat climate change. It's true that high oil and gas prices have boosted those profits abnormally but it still illustrates our appetite for fossil fuels and how far there is to go in weaning ourselves off them.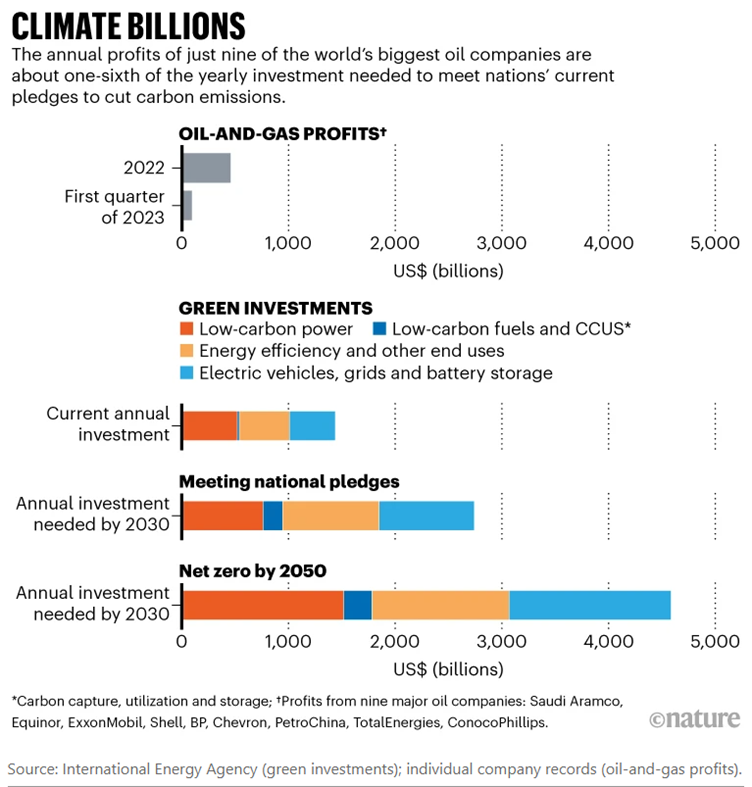 Lab meat comes with 25x the CO2
Lab based meat products are seen by many as a highly effective means of manufacturing protein products using much less water, land and without introducing antibiotics into the food chain. But new research from scientists at the University of California reveals under current production processes, lab formed meat come with between 4 and 25 times the CO2 emissions of growing a cow in a field. The crux is the electricity used in the purification process in the lab and how that is generated. Of course, if your electricity is mostly renewable, there's an immediate competitive advantage in the growing lab meat market (pun intended).