Climate Tech, Boosting Corporate Value and the Ozone Hole
In this issue:
G20 still supporting fossil fuels despite COP26 commitments
As expected, COP27 has brought a host of reports and research outputs. One providing a global summary of G20 performance on the three critical issues of support for fossil fuels, carbon pricing and climate risk disclosure is quite an easy read. Bloomberg NEF is telling us that, despite commitments at COP26, G20 countries supported fossil fuels to the tune of US$693bn (NZ$1,170bn) in 2021, oil and gas receiving 83% of the backing (note this is before Russia's invasion of Ukraine). This is the highest level since 2014. Only 5 of the G20 have taken concrete steps to reduce support. 12 of the G20 have carbon pricing schemes but these are mostly ineffective because of low prices and generous concessions. Only 4 countries have passed laws covering climate risk disclosure.
Poor country economies hardest hit by climate change
Meanwhile, the impacts of climate change are being borne by poorer countries.  A review of the economic impact of heatwaves reveals poorer countries suffer disproportionately relative to wealthier nations.  The study estimates the global economy lost between $5trn (NZ$8trn) and $29trn (NZ$49trn) between 1992 and 2013 due to heatwaves with wealthier countries seeing an average 1.5% decrease in incomes, poorer countries a 6.7% decrease.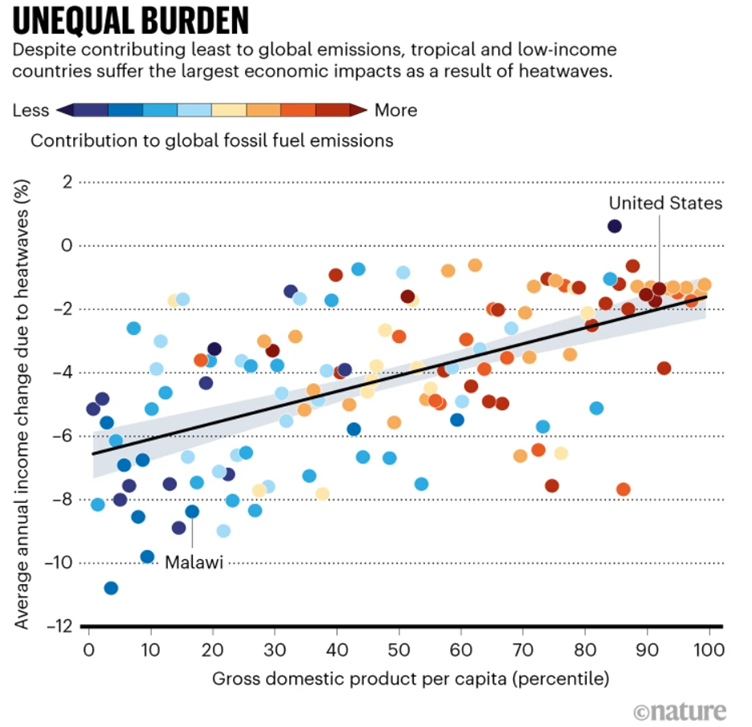 PwC update on climate tech venture capital investments
There is mixed news on investment into climate tech according to PwC. It is reporting climate tech secured 25% of all venture capital investments in 2022, at around $15-20bn (NZ$25-34bn) per quarter. The not so good news is that uncertainty has hit the venture capital markets hard and the overall market is in decline. While climate tech is holding up and its proportion increasing, the general sentiment could see further increases constrained and risk capital more difficult to access.
Climate initiatives help companies improve financial performance
Yet more evidence emerged this week that positive climate action becomes reflected in superior financial performance. EY's Sustainable Value Study reports 69% of companies surveyed reported higher financial value returns than they expected from climate initiatives. Progressive companies are looking at several types of value when considering climate related investments and while financial value remains the most important, societal, employee, planetary and customer value are very commonly on the radar.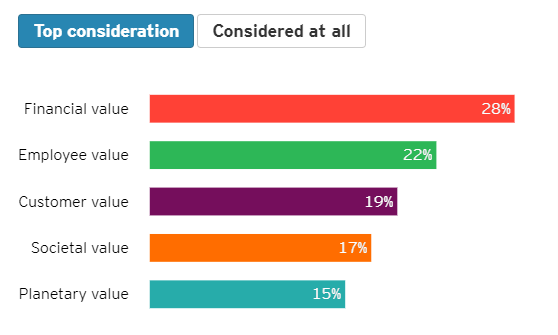 Is the hole in the Ozone layer shrinking due to the Montreal Protocol?
But back to COP.  Do large international gatherings aimed at addressing environmental issues actually work? Maybe yes. The Montreal Protocol is now 35 years old and NASA and the NOAA have recently reported the ozone hole over the South Pole has decreased by 700,000 square miles (1.8m square kilometres), with the shrinkage being attributed to the Protocol. An earlier study (2021) suggested that without the Protocol, the ozone layer would have collapsed by 2040 and we would now be living in a scorched earth environment. Let's hope the COPs will have a comparable impact.
Wishing you all a safe and great weekend.
Mike and the team
CEP Networking events coming up: Register now
We will be holding our next round of networking evenings in November and December.
These are 'buy your own drinks', invitation only events but we will make sure you are well fed.  The events are always a great opportunity to meet your local Board members, old and new friends and associates.
We ask everyone to bring along at least one non member. Please register yourself and your guest to enable us to get the catering right.  We will need the following details for yourself and your guest(s) please:
full name
company name
job title
mobile number, and
dietary requirements, eg gluten free, vegetarian, etc.
Christchurch Networking Event – 29 Nov (Tues)
Fat Eddie's, Level 1/76 Hereford Street, Christchurch Central
RSVP by 22 Nov
Auckland Networking Event – 30 Nov (Wed)
Brew on Quay (rooftop area), 102 Quay Street, Central Auckland
RSVP by 23 Nov
Wellington Networking Event – 5 December (Mon)
The Thistle Inn (The George Room), 3 Mulgrave Street, Thorndon, Wellington
RSVP by 28 Nov
Are you on the hunt for fresh talent?

We are pleased to advise the CEP website now has a function to advertise your job vacancies.  Please email us with any upcoming vacancies you would like CEP to post, including:
Company name
Contact person (for applications or questions)
Job location
Job title
Full time/part time, etc.
Brief description of job (less than 50 words)
Application closing date
Website link to application page (if applicable)
Email to send application to.
Initially CEP will upload the vacancy for you, in the future you will be able to do this yourself.  If you have questions, please do not hesitate to contact the CEP office.
Ask us a question or send us your vacancy
Industry events coming up
Energy Spotlight: Insights from Energy Centre research

Date: Thursday, 24 November 2022
Time: 9.30am-12pm followed by refreshments
Venue: Sir Owen G Glenn Building, 12 Grafton Road, Auckland
The Energy Centre invites you to an open forum aimed at sharing their research. The research programme focusses on energy-related problem-solving research of importance to New Zealand. This is an opportunity for participants to suggest topics to enhance the impact of the research. Research fellows and other staff will provide a brief overview of their research findings, with recent updates relevant to business, government and the community (10-minute presentations followed by 10-minute discussions).
Programme and Registration here
Decarbonising New Zealand, 5-6 December 2022, Te Papa, Wellington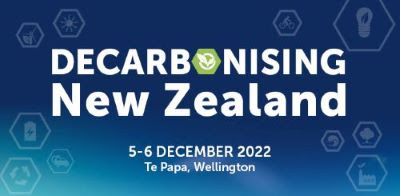 The increasing government focus for industry to accelerate decarbonisation pathways has motivated organisations to consider their carbon footprint and how it impacts enterprise value. The Decarbonising New Zealand Conference will be held in Wellington on 5-6 December and the event has been designed to provide guidance at both an executive and practitioner level to empower this consideration and enhance the delivery of operational decarbonisation. The insights offered on operationalising decarbonisation.
The insights offered on operationalising decarbonisation will cover many industry fields including bioenergy, process heat, energy, transport, and the built environment.