The ISO 50001 Energy Management Systems Standard was released in August 2011. This International Standard establishes a framework for industrial plants, commercial, institutional and governmental facilities and entire organisations to manage their energy.
The ISO 50001 Standard is based on the classic business planning cycle "Plan – Do – Check – Act" and provides guidance for organisations in establishing energy policies, programmes and action plans to improve their energy use.
A good summation of this process is shown in the following diagram: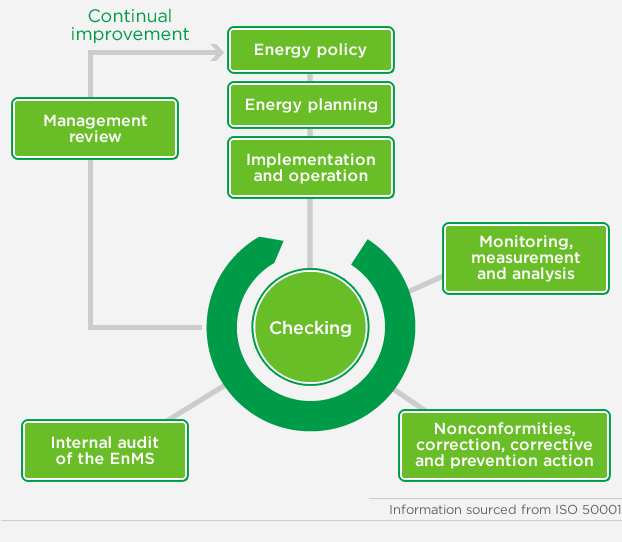 CEP supports the objectives of the ISO 50001 Standard, which is to accomplish the following:
Assist organisations in making better use of their existing energy consuming assets
Create transparency and facilitate communication on the management of energy resources
Promote energy management best practices and reinforce good energy management behaviours
Assist facilities in evaluating and prioritising the implementation of new energy-efficient technologies
Provide a framework for promoting energy efficiency throughout the supply chain
Facilitate energy management improvements for greenhouse gas emission reduction projects
Allow integration with other organisational management systems such as environmental, and health and safety.
To purchase a copy of the ISO 50001 Standard you will need to contact Standards New Zealand.
If you are interested in your organisation becoming ISO 50001 certified, you can contact CEP for assistance.